I tend to be a "stickler" for a good pillow, and have taken time to research and test different pillows. I had a clear winner until recently, and now there are two durable, researched pillows, both of which I size and sell in the clinic.
Dr. Gelber
"…is scientifically designed to help those with sleep problems. Our pillows reduce neck pain, headaches, snoring, tossing and turning, and allow people to enter a deep sleep to allow the body to heal. We would like you to get a good deep healthy sleep like we do and that's by having an individual round cervical pillow fit to support you in your individual alignment and preferred sleeping position." – Jim and Judy Blondin – the founders
a litttle more detail from the founders:
Judy worked for a chiropractor and with her knowledge of the spine designed the Align-Right Pillow to help her debilitating morning headaches. The premise was to design a pillow that was comfortable, supportive and fitting the neck curve thereby giving the cervical (neck) vertebrae normal alignment.
Judy knew with spinal alignment vertebrae spaces opened, nerves were not compressed, pain would decrease. It took two years for her to find the special durable Hollofil filling to give the proper support, yet be comfortable. The filling had a special benefit, it could be machine washed and dried; a big health benefit as regular pillows carry bacteria causing health problems and carry dust mites.

I've been sleeping on this product for 15+ years, and it has traveled with me everywhere!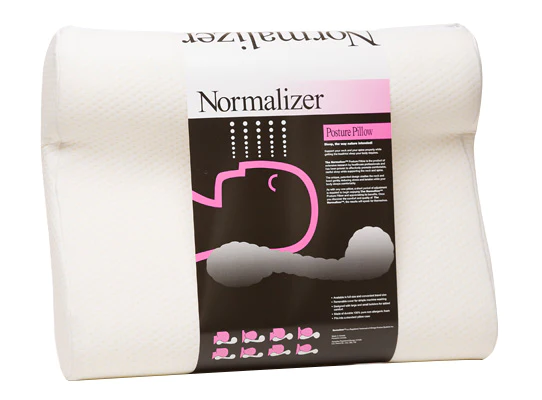 The Normalizer Pillow
Your good health requires the ultimate in restful sleep. The Normalizer was designed by a chiropractor to reduce stress and give the body the rest it needs!
Sleeping on an ordinary pillow fails to support the spine properly and may cause problems to your neck and back. The Normalizer has been designed to contour the normal curvature of the neck. It's unique constructions helps maintain the head and neck in proper relationship to each other.
Available in full, king, queen and travel sizes.
It is designed to enhance the effects of the supportive medium ( air or water ) under your neck area. Choose air or water base for the chamber and your preferred support method. The Chiroflow Pillow has a unique patented contour technology that gently lifts and corrects neck posture while sleeping to relieve neck pain and reduce muscle stiffness in the morning. Ideal for travel, lightweight and easily portable.
Adjustable:
Can be adjustable for thickness by adding or removing the volume of air or water in the base chamber. Removable Fill chamber allows for better washing.
Comfort:
The pillow has air or water base chamber, provide the ideal balance of comfort for your head and neck. Fully Adjustable for Thickness, Firmness.
Contoured Pillow Shape:
Contoured Shape Creates Natural Alignment of your neck and helps to Rejuvenate Your Health by providing with the most optimal and comfortable sleep possible. Ideal for side or back sleeping positions.
I consider this the full-size alternative to the Align-Right Pillow, and it keeps two options present for my patients and my community.